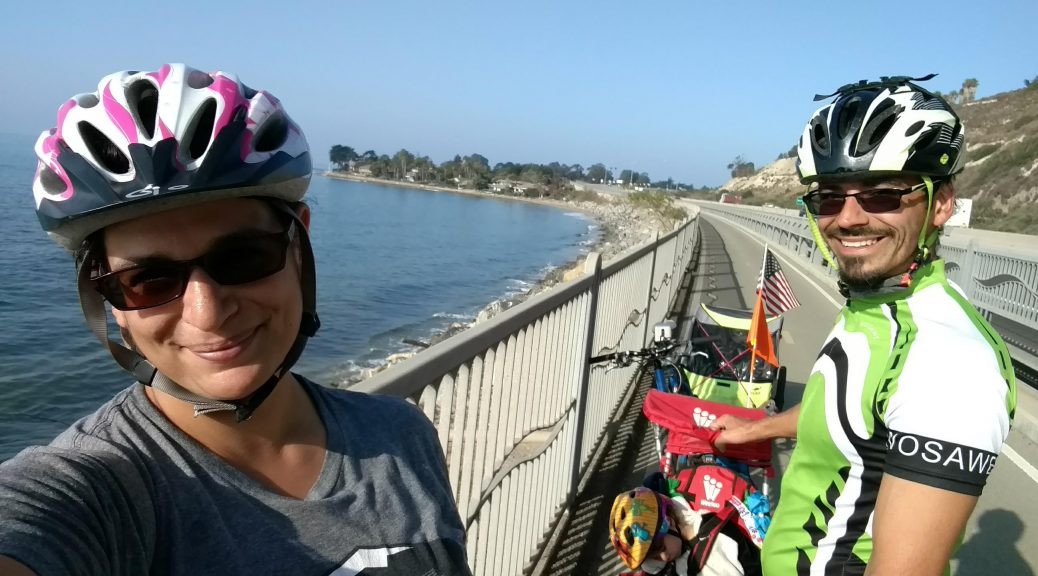 Pacific Coast Highway Bike Trip – Day 2
Pacific Coast Highway Bike Trip – Day 2
Carpenteria State Beach to Thornhill Broome State Beach Campground
Distance – 43.95 Miles
Elevation Gain – 920ft
Average Speed – 8.7 mph
Duration – 5:04:16
Day 2 was challenging as well as rewarding. Upon waking up, we packed up quickly, utilized the showers at Carpenteria State Park (coin operated and SUPER convenient), and set out to conquer the next section of our ride. Our goal for the day, was to make it to Point Mugu State Park for the night. We battled some rather strong headwinds, having us work to go downhill, and it was a rough day for our potty training toddler.
Our little one has been potty training… so we thought we had it figured out when we chose to bring her little potty with us on the trip. The idea behind this was: there were stretches of road that didn't have any facilities… we thought, in case she needs to go, we could hop over to the side of the road, provide a little privacy, and voila! This worked out PERFECTLY when we could hear her tell us she needed to stop. The winds were so severe, there were times we didn't hear her in time. This caused some emotional outbursts (understandable), and it required some creative solutions. As soon as it became available, we pulled into a beachside playground for her to run off some energy. This turned the whole day around and we were back to smiles. Two playgrounds, a rocket museum, 3 popped tires, and many many laughs and tears later, we were nearing our destination.
The views we experienced during our ride today were absolutely spectacular! My goodness.. the scenery made every obstacle totally worth it! In the end, we pulled into the state park, set up camp and enjoyed the most beautiful sunset! Those pesky winds, on the other hand, made for a memorable night, lol. Our tent almost flew away, with us in it, and then continued to collapse on us every time we were sandblasted. Long story short, the winds were so rough, we woke up to the Sahara Desert in our tent (j/k.. just an inch or two of sand).
Day 2 = SUCCESS