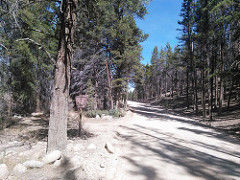 MUDBOGGING!! Mt Massive Wilderness
MUDBOGGING!! Mt Massive Wilderness

This past weekend, Josh and I met up with some of his family members for some camping in the Mt Massive Wilderness area. We arrived Friday evening, set up our tent (yes, tent… we LOVE sleeping next to the sound of the water from the river rushing by), and hung out for a bit before crashing. We had looked into what the weather was supposed to be like and it was supposed to be perfect, with highs in the 50s and lows in the 20s, but no rain and no snow. Now personally, I am not a fan of mummy bags… you can't move and you definitely can't cuddle so we figured out another way to stay warm. The trick, is to connect 2 individual regular sleeping bags, to create a queen size sleeping bag. Do that twice, (this means you will need 4 individual sleeping bags) and put them inside each other so that you have 2 Queen size sleeping bags inside of each other. We laid down a couple of tarps both under the tent and inside the tent, a couple of camping blankets, the sleeping bags and one more comforter on top. With 2 bodies in the sleeping bag, it is super cozy and we had no issues with staying warm, it was PERFECT! You can also add a blanket inside the sleeping bags for additional comfort, as well as an air mattress or air bed underneath. I prefer to sleep with a beanie on my head so that I can keep my head outside of the sleeping bags but, if you don't mind being in the sleeping bags throughout the night, you can just curl in and hold the top of the sleeping bags down in order to create your own little cocoon of toasty warmth.
Saturday morning, we woke up fully refreshed and ready for a wonderful day in the mountains. Some time after breakfast and a brisk walk, we decided to go search for fallen trees to use for firewood. Josh, the pup and I hopped in the Trailblazer, and his dad and uncle hopped in the pickup, while the rest remained at camp. We drove past the Mt Massive Trailhead and into the dispersed camping areas beyond the maintained road. There is a sign, just after the Massive Trailhead, telling the driver that the road is pretty gnarly and unmaintained. There are all sorts of little obstacles you have to drive through and it makes for a super fun time. I am still learning how to do the whole backcountry driving thing, so I was in the driver's seat getting my practice in. We stopped at several places and filled the back of Uncle Scott's pickup with fallen logs to take back to the campsite. A campfire is one of the best things about camping so we always make sure we have an awesome one. We had been leading the way but when we turned around to head back to camp, Uncle Scott was driving ahead of us. We were driving along nice and carefully when we began approaching a fork in the road. If you stay on the main road, it's pretty tame, however if you take the right, it dips down and comes back up to the main road in a more gnarly fashion. Josh looks at me and says,
"Take the right"
"You want me to pass them?"
"FLOOR IT!"
Hesitant but excited, I took the right. I look over to the left and it looks like Uncle Scott might have sped up so I gun it in order to get in front of them. As I'm approaching where the detour meets back up with the main road, I notice I have a tree on my right. As I maneuver to the left of the tree, barely scraping by, I have a boulder on my left that I have to avoid as we come up barreling back on to the main road just barely making it in front of Uncle Scott. I make a hard right and we are back on the main road in front of the truck. We were going so fast, we went flying over an edge, came down and seemed to bounce back up, all while maintaining control of the vehicle to stay on the road. We hear Uncle Scott honk the horn but we were laughing so hard that all we could say was, "MUDBOGGING!!!" LOL!
When they returned to camp behind us, they told us that the entire rear end of the Trailblazer was off the ground and we all had a great laugh over it.
I am super excited for getting back out and camping again soon! I know that technically, the season for camping is over but… I just don't believe the season should ever end! You just have to make allowances for weather and come prepared. I sincerely believe that with the proper level of preparedness, ANYTHING is fun.